About Yo Sato
Founder of Sato Yo International Scholarship Foundation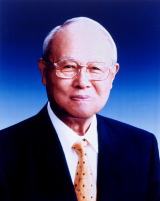 Yo Sato was 19 years old when he and his father, Seiji developed a special machinery for processing bamboo. They then founded SATO BAMBOO & RATTAN MACHINERY WORKS CO., LTD. for the development, manufacturing and distribution of the bamboo-processing machinery.
After World War II, many bamboo-processing machines were exported to Southeast Asia and Southwest Asia to be utilized for post-war reconstruction. Following this, Yo Sato traveled to countries such as the Philippines, India, Myanmar (then Burma), Thailand to offer technical guidance himself. And, during these trips, Yo Sato received a lot of support from many people of these countries.
Yo Sato later developed Japan's first hand labeler, and from 1962, began its manufacturing and distribution. Together with the high market growth of supermarkets, the demand for hand labelers increased. Today, hand labelers are being used all over the world as an indispensable item in retail business.
As the barcode system started to be used from the 1970's, Yo Sato was very fast in taking action and developed new hand labeler models. This move generated a synergistic effect of spreading the practical use of the barcode system.
In 1981, Sato developed the world's first thermal transfer printer. Again, Sato's development contributed to the widespread utilization of the barcode. Today, applications for barcodes have expanded dramatically and there is not a day that we don't come across one.
In 1986, Sato established a subsidiary in Malaysia and Singapore for the manufacturing and distribution of production of hand labelers and electronic printers. Today, subsidiaries are located in Thailand, Vietnam, Indonesia, and in India where a lot of local people are working.
The success of Yo Sato's business, owes much to the people of Southeast and Southwest Asia. When Sato traveled to offer technical guidance of the bamboo-processing machine, and when he established subsidiaries in Malaysia and Singapore, he was welcomed and had the cooperation and support of so many people. Ever since, to express his gratitude, Sato had been earnestly thinking about reciprocating someday.
And, in 1996, Yo Sato invested his personal assets and established the Sato International Scholarship Foundation to support students from 18 countries of ASEAN and Southwest Asia who wish to study in Japan and for students who wish to study overseas from Japan.
However, still halfway through his endeavors, Yo Sato passed away in 2001. His aspirations, however, have been passed on to his successors.
SATO BAMBOO & RATTAN MACHINERY WORKS CO., LTD. founded by Sato expanded its business operations to become SATO CORPORATION (currently SATO HOLDINGS CORPORATION), and was listed in the First Section of the Tokyo Stock Exchange. In 2015, the company celebrated its 75th anniversary. Today, SATO HOLDINGS has grown to be an organization with subsidiaries in more than 20 countries around the world, with over 4,000 employees.
Yo Sato also founded Sato International Scholarship Foundation, which in 2009 changed to become a public interest incorporated foundation and changed its name to Sato Yo International Scholarship Foundation.The year 2016 marks the foundation's 20th anniversary and Sato Yo International Scholarship Foundation stands at the beginning of yet new endeavors.
Yo Sato
 November 1921
Born in Ushigome, Tokyo
 October 1940
Establishes SATO BAMBOO & RATTAN MACHINERY WORKS CO., LTD. and begins development, manufacturing and distribution of the bamboo-processing machinery.
 1950's
As an effort for the reconstruction of the ASEAN countries and Southwest Asian countries, travels to countries such as the Philippines and India for technical training of the processing machine for bamboo, coconut and rattan.

Crossing the river on an elephant (Assam, India 1966)
 May 1951
SATO BAMBOO & RATTAN MACHINERY WORKS CO., LTD. becomes joint stock company (currently SATO HOLDINGS CORPORATION); appointed President.
 1962
Develops the hand labeler; began its manufacturing and distribution
 1981
Develops the world's first thermal transfer printer, contributing to promoting practical use of the barcode.
 1986
Establishes a group company in Malaysia
 1987
Establishes a group company in Singapore
 June 1990
Appointed Chairman of SATO CORPORATION (currently SATO HOLDINGS CORPORATION)
 1996
Establishes Sato International Scholarship Foundation (presently Sato Yo International Scholarship Foundation);
appointed Representative Director
 20 October 2001
Dies